Deodorizing Stainless Steel Magic Soap Bar
$16.99 $45.97
's Super Sale is Back!
The Magic Soap Bar is an innovative way to clean and remove any odor from your hands with no chemicals or products.
Stainless Steel has recently been proven to eliminate odor and clean hands as well as soap. The Steel molecules bind with the sulfur and germ molecules in your hands transferring the molecules from your hands to the steel. Leaving your hands clean and smell free in just seconds.

It is extremely effective with the strongest odors such as garlic, fish or onion.

This is the first all natural, reusable soap bar in the World. You will no longer need to buy plastic soaps and containers. It will save you a ton of money and prevent your plastic waste as well.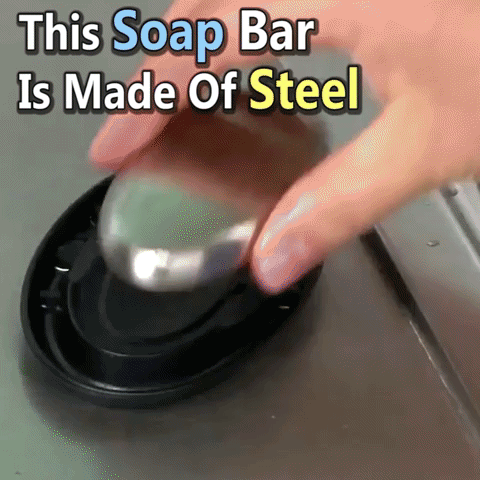 How It Works
After handling extremely strong odors such as fish, onion or garlic, the smell can linger on your hands for days.
By rinsing your hands in cold water for ten seconds while rubbing this Steel Soap Bar it will instantly eliminate any odor. The Steel molecules bind with the germs and molecules of the food you were just handling, removing them from your hands and eliminating them for good.

Ideal for use in the Kitchen, Fishing Trips, Camping, Travelling or anytime you need to wash your hands and eliminate odor!

Dishwasher Friendly!

This is a one time purchase that lasts forever!

Specifications
Weight: 30 Grams
Material: Stainless Steel
Dimensions: 6.5cm x 4.7cm
THIS PRODUCT IS A LIMITED PRODUCTION OF AND IT'S NOT AVAILABLE IN STORES. IT WILL SELL OUT FAST!
Click ADD TO CART to Order Yours Now!
WE DONATE A PORTION OF OUR PROFITS TO ENVIRONMENTAL CHARITIES
Every order you make with us benefits the environment. Thank you for protecting our seas, forests & wildlife with us!
In Stock: Leaves warehouse in 1 to 2 days
Free Worldwide Shipping Available